Recovery to Resale, Source One and Skipco, are an unbeatable combination!
Remarket your vehicle at Skipco's Public and Dealer Auction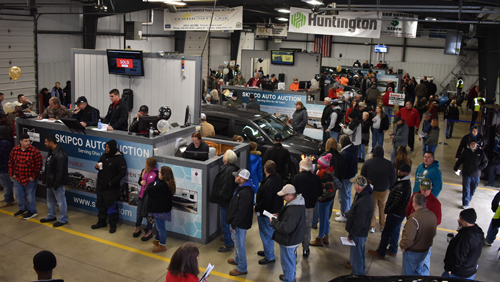 Conducting business with the same basic principles established over 30 years ago, Source One Adjusters together with Skipco Auto Auction has evolved into the largest single source service of its kind. What started in 1978 as a one man operation, repossessing cars and auctioning them to the highest bidder, has evolved into a
premier public auction. Skipco Auto Auction consistently achieves exceptional sales results by marketing to the general public and dealers alike. We unite top auctioneers and a management team committed to a quality buyer experience to ensure the best seller representation available.
As an added bonus client's of Source One Adjusters choosing to remarket collateral with Skipco Auto Auction receive FREE storage charges. Source One also has one of the lowest transportation fees to our auction lot. We charge a flat rate of $55, while many of our competitors charge a much higher transportation base rate plus mileage fees.
Additional Features & Services:
12,000 Square Foot Indoor Auction Facility
Mechanics Bay for On-Site Repairs
Reconditioning Center
Simulcast for Our Dealers
Transport Service
Legal Advertising
Title Services
Post Auction Documentation